Show date: August 17 & 18, 2019 – our 40th anniversary
8am-4pm, rain or shine
showgrounds: 251 Jacob St, New Hamburg

We will be posting 2018 photos and winners ASAP. Thank you for your support in 2018, we had a great year with great weather! Thanks to everyone who came out and made it another great year of Moparfest! A big thank you to all of our volunteers as well! See you in 2019 for our 40th anniversary!
Volunteers needed! If you have a few hours you could spare over the event weekend, we could use your help! Sign up here
At this time, pre-registration is closed
You can still register your Mopar at the gate on the Saturday/Sunday of Moparfest for $40
Please see our FAQ's below to find the info you're looking for:
Please try to use this sheet, as well as the rest of the website to answer any questions before calling. The weekend will be very busy so we may not be able to return calls or messages during the event. Thank you!
IF YOUR CONFIRMATION PACKAGE NEVER ARRIVED IN THE MAIL: Please let them know at the gate. Then when you get to registration, please let them know and we will give you a new window tag and armbands. We apologize for this – everything has been mailed out but this seems to be an issue this year.
Moparfest dates are Saturday and Sunday August 18 & 19 from 8:00am-4:00pm, rain or shine
You can register at the gate still for $40 – includes 2 adults and the vehicle for the weekend.
You can substitute a vehicle if you need to, just let us know at the registration area to make sure all your paperwork matches in case you are chosen for a big prize. (You and your registered vehicle must be present to win)
General admission costs are $12 per person per day, kids 12 and under are free
The cruise night downtown New Hamburg on Friday night is open to all makes and models of cars and begins around 4:30pm until dusk.
Cruise to Wellington Motors on Saturday night leaves from Moparfest
Wellington Motors address: 935 Woodlawn Rd W, Guelph, ON N1K 1B7
Google maps directions: https://goo.gl/llV6nF
Saturday we draw for $5,000 in Mopar Money – you and your registered vehicle must be present to win – this is open to all show vehicles on the grounds
Sunday we draw for the pre-registered participant grand prize (for 2018 the prize is $15,000 CASH) – you and your pre-registered 1993 or older vehicle must be present to win (must have pre-registered before July 1/2018)
Sunday is the draw for the New Hamburg Optimist Challenger – you do NOT need to be present to win, we will call you
Bus Trip to St. Jacobs will leave Moparfest at 10:30am by the arena on Saturday only. It will arrive back around 2-3pm
We are a handicap accessible event and offer handicap parking on-site. Proper permits must be displayed on your motorized transportation vehicles
Moparfest has a strict no pet policy. Service animals with their working vests on are welcome to the event. There will be zero tolerance for animals in vehicles or tied to vehicles in parking lots
Even if it's raining where you are, it might not be raining in New Hamburg (We hope no one has to ask this!)
We do have vendor spots available, but they will be sold at the gate on a first-come first-serve basis. Weekend vendor spots cost $75 and up per 20×20.
Vendor parts pick up and drop off is available for large items, on-site only.
Moparfest is mostly a cash-only event, there is one debit/credit machine at the grandstands souvenir booth (we cannot offer cash back here), and an ATM on site. All other areas are cash.
Spectator parking is the same as last year– at the Wilmot Recreation Complex – free shuttle busses are provided to and from the show grounds
Address: 1291 Nafziger Road Baden, ON N3A 0C4
Google maps: https://goo.gl/0ZmMJY
Moparfest 2018 is on August 18 & 19, 2018 – always the 3rd weekend
Moparfest 2019 is on August 17 & 18, 2019 (Our 40th anniversary!)
Moparfest 2020 is on August 15 & 16, 2020
Moparfest 2021 is on August 21 & 22, 2021
______________________________________________________________________________________________________________________________
We need some help…
We are in search of a select few years of Wellington Motors Plaques – (NOT Moparfest ones!) We are looking for dash plaques from the annual Saturday evening Wellington Motors cruise night that happens during the Moparfest weekend.
The years that we are looking for are: 1986, 1987, 1988, 1998, 2002
If you have any of these years of plaques that you are willing to part with, please send an email to: michelle@moparfest.com and let us know you are able to help with the search!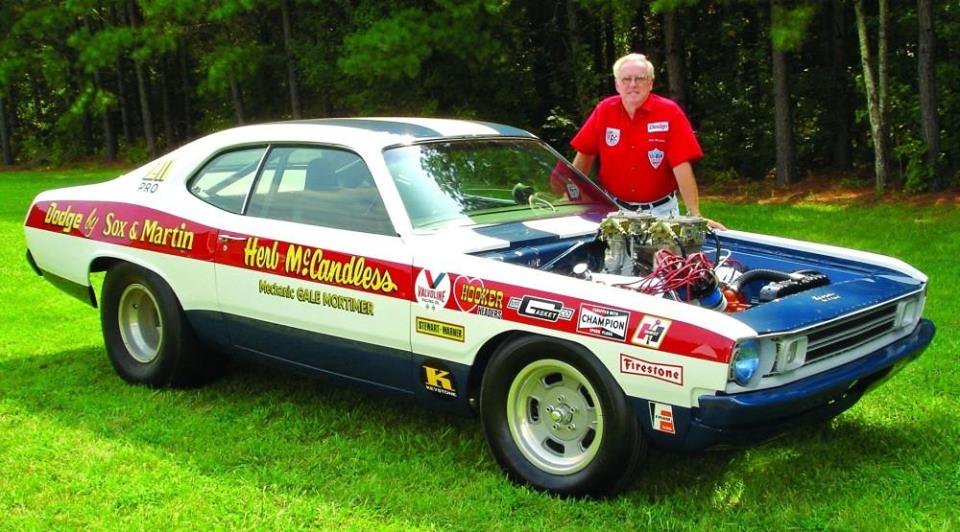 Drag Racing Legend Herb McCandless will be back in 2018, doing a Q&A Seminar in the arena on Saturday at 1pm! Don't miss it!
2018 show notes:
The Legendary drag racer,

Herb McCandless

will be back for 2018, doing a Q&A session in the arena on Saturday! Don't miss it!
Don't forget – we offer a full hot breakfast in the Legion (on site) from 7am until 10am for just $9.00 – park your car, grab some food and enjoy the show!
NEW – $1,000 spectator cash draws each day! Free to enter into!
Did you know – you can substitute a vehicle at the show! Just let us know at Registration and we can get your paperwork updated. Full list of FAQ's here
Check out the arena for special interest Mopars, and our 1968 Mopar display, celebrating the 50th anniversary of the Super Bee and Road Runner
Coffee & a cold drink will be available on-site, thanks to Tim Horton's!
Cruise to Wellington Motors in Guelph after Moparfest on Saturday for a smoke show & cruise night
Friday August 17 – downtown New Hamburg car show & sidewalk sale, starting around 4 pm. Open to all makes and models of vehicles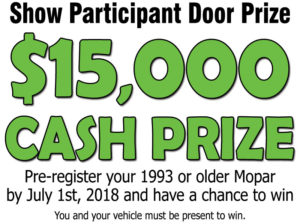 Why no prize car for 2018?
As a committee, we decided to try giving away a cash prize this year. Here are a few reasons why: the cost of buying an old Mopar, repairing and maintaining it, gas and all the time involved is getting higher and higher.
We alsofind that most people who win a Moparfest prize car end up selling it within a few years. So we thought we would try something new.
Plus – who couldn't use $15,000?
Same rules apply as before when we had the prize cars – you must pre-register your 1993 or older Mopar before July 1st, 2018. You and your registered vehicle must be present to win.
Thoughts on this? Send them to michelle@moparfest.com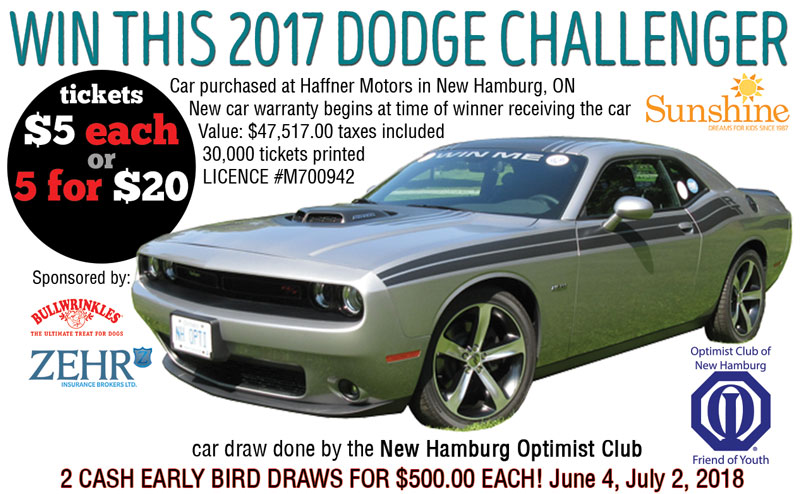 A huge thank you to the volunteers, committee members, sponsors, vendors, participants, spectators and everyone who participated in Moparfest 2017 for helping to make it one of our most successful years to date! We hope to see all of you back in 2018 for our 39th year of Moparfest!
PLEASE NOTE:
Moparfest has a strict no pet policy. Only working service animals will be allowed onto the show grounds. Otherwise, you will be asked to leave if you are seen with an animal on the field. No refunds will be issued. We also have ZERO tolerance for animals left in, or tied to vehicles.
EVENT HIGHLIGHTS: