Show date: August 17 & 18, 2019 – our 40th anniversary
8am-4pm, rain or shine
showgrounds: 251 Jacob St, New Hamburg

Thank you for your support in 2018, we had a great year with great weather! Thanks to everyone who came out and made it another great year of Moparfest! A big thank you to all of our volunteers as well! See you in 2019 for our 40th anniversary!
*If you or someone you know owns a past Moparfest giveaway vehicle (whether they won it or bought it), please contact us to be included in the special display of vehicles in 2019!*
SATURDAY WINNERS

OCC Club's Christmas Tree Reaction Time – Bryan Roberts – .001 R/T

Sunshine Foundation's Engine Blow – 1999 Toyota Camry with 216,000 km – winning time 18 seconds
First prize (18 seconds): Susane Murchison
Second Prize (17 seconds): Mark Murchison
Bike Draw, sponsored by K&K Liquidations – Tyler B.
$1,000 Appreciation Draw – Sandy Minna
New Hamburg Firebirds 50/50 Draw – $6,504
Ticket # 4973 – Bill Jackson
Draw for $5,000 Mopar Money
1. #0710 – Bill Finch, Dundas ON – 1963 Fargo
2. #0847 – Lou Tomasone, Sault Ste Marie ON – 1971 Dodge Demon
3. #0811 – Tim Waechter, Baden ON – 1968 Dodge Dart GT – WINNER!
4. #0869 – Ron & Beth Bobmery, Oshweken ON – 1971 Plymouth Sport Fury
5. #0599 – Robert Sudac, Mississagua ON – 1968 Dodge Charger
6. #1426 – Darin McKenzie, Kippen ON – 1970 Plymouth
7. #0806 – Robert Graham, Huntsville ON – 1978 Dodge Magnum
8. #0453 – Bob Hinds, Skead ON – 2015 Dodge Challenger
9. #0009 – Dennis Koch, Little Valley NY – 1972 Plymouth Duster
10. #1571 – Dave Hutichison, Hamilton ON – 1970 Dodge Dart
SUNDAY WINNERS
OCC Club's Christmas Tree Reaction Time – Kevin Brown

Sunshine Foundation's Engine Blow – 2002 Toyota Corolla with 260,000 km – winning time 1:12:12 (yes, over an hour!)
First prize (2:12 seconds): Lynn Pereira
Second Prize (2:11 seconds): Amanda Bleck
Bike Draw, sponsored by K&K Liquidations – Josh
$1,000 Appreciation Draw – Roger Bauman
New Hamburg Firebirds 50/50 Draw – $6,666
Ticket # 8667 – Shawn Kelly
AMC Award presented by Zehr Insurance – Bob Robertson, Tillsonburg ON – AMC Matador
Canadian Long Distance – #0158 – Chris West, Victoria BC – 1969 Plymouth Barracuda – 4,097 km
USA Long Distance – #1152 – Larry & Wanda Martens, Oconto WI – 1972 Plymouth Satellite – 988km
New Hamburg Optimist's 2017 Dodge Challenger ticket car – ticket #23323, Dakota Magdish from Hamilton ON
Grand Prize Draw for $15,000 CASH for pre-registered vehicles 1993 and older (must have pre-registered by July 1/18)
1. #0096 – Rory Clay, Mount Brydges ON – 1974 Dodge Charger
2. #0172 – Steve & Marion Mann, Listowel ON – 1979 Plymouth Road Runner
3. #1003 – Dave Tippet, Cannington ON – 1968 Dodge Monaco
4. #0933 – Roger Orth, Monkton ON – 1969 Dodge Coronet
5. #0931 – Rob Mullis, London ON – 1968 Dodge Super Bee
6. #0850 – Gary Hoffman, Waterloo ON – 1971 Plymouth Cuda
7. #0991 – Anet Booker, Caledonia ON – 1973 Plymouth Road Runner
8. #0927 – Steve Marlatt, Wainfleet ON – 1974 Plymouth Cuda  – WINNER!
9. #590 – Bud Dietrich, Petersburg ON – 1967 Plymouth GTX
10. #0045 – Randy Chaney, Shelburne ON – 1974 Dodge Charger
A huge thank you to everyone who came out to Moparfest 2018 – Congrats to our winners! See you in 2019!
We need some help…
We are in search of a select few years of Wellington Motors Plaques – (NOT Moparfest ones!) We are looking for dash plaques from the annual Saturday evening Wellington Motors cruise night that happens during the Moparfest weekend.
The years that we are looking for are: 1986, 1987, 1988, 1998, 2002
If you have any of these years of plaques that you are willing to part with, please send an email to: michelle@moparfest.com and let us know you are able to help with the search!
2018 show notes:
The Legendary drag racer,

Herb McCandless

will be back for 2018, doing a Q&A session in the arena on Saturday! Don't miss it!
Don't forget – we offer a full hot breakfast in the Legion (on site) from 7am until 10am for just $9.00 – park your car, grab some food and enjoy the show!
NEW – $1,000 spectator cash draws each day! Free to enter into!
Did you know – you can substitute a vehicle at the show! Just let us know at Registration and we can get your paperwork updated. Full list of FAQ's here
Check out the arena for special interest Mopars, and our 1968 Mopar display, celebrating the 50th anniversary of the Super Bee and Road Runner
Coffee & a cold drink will be available on-site, thanks to Tim Horton's!
Cruise to Wellington Motors in Guelph after Moparfest on Saturday for a smoke show & cruise night
Friday August 17 – downtown New Hamburg car show & sidewalk sale, starting around 4 pm. Open to all makes and models of vehicles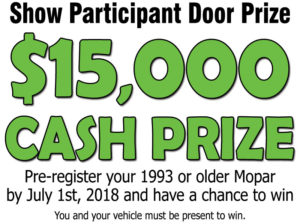 Why no prize car for 2018?
As a committee, we decided to try giving away a cash prize this year. Here are a few reasons why: the cost of buying an old Mopar, repairing and maintaining it, gas and all the time involved is getting higher and higher.
We alsofind that most people who win a Moparfest prize car end up selling it within a few years. So we thought we would try something new.
Plus – who couldn't use $15,000?
Same rules apply as before when we had the prize cars – you must pre-register your 1993 or older Mopar before July 1st, 2018. You and your registered vehicle must be present to win.
Thoughts on this? Send them to michelle@moparfest.com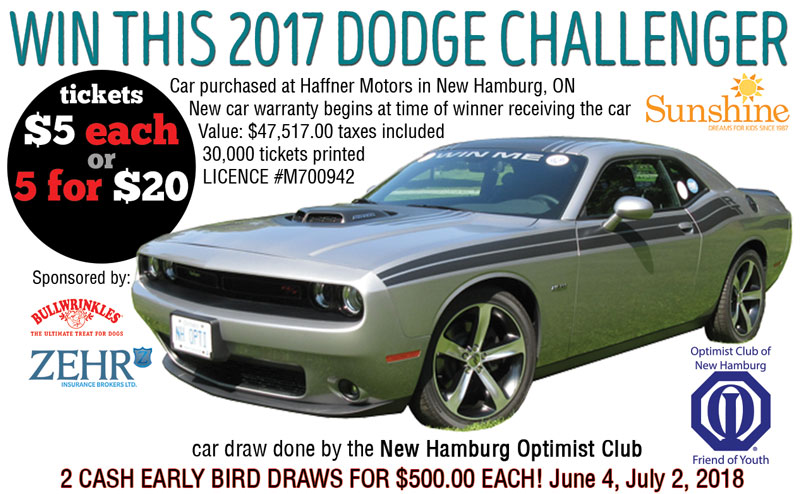 A huge thank you to the volunteers, committee members, sponsors, vendors, participants, spectators and everyone who participated in Moparfest 2017 for helping to make it one of our most successful years to date! We hope to see all of you back in 2018 for our 39th year of Moparfest!
PLEASE NOTE:
Moparfest has a strict no pet policy. Only working service animals will be allowed onto the show grounds. Otherwise, you will be asked to leave if you are seen with an animal on the field. No refunds will be issued. We also have ZERO tolerance for animals left in, or tied to vehicles.
EVENT HIGHLIGHTS: