Show date: August 17 & 18, 2019 – our 40th anniversary
8am-4pm, rain or shine
showgrounds: 251 Jacob St, New Hamburg
Thank you for your support in 2018, we had a great year with great weather! Thanks to everyone who came out and made it another great year of Moparfest! A big thank you to all of our volunteers as well! See you in 2019 for our 40th anniversary!
Pre-register any Mopar before May 1 / July 1, 2019 to be automatically entered
to win a $100 PartSource gift card!


*
If you or someone you know owns a past Moparfest giveaway vehicle (whether they won it or bought it), please contact us to be included in the special display of vehicles in 2019!

*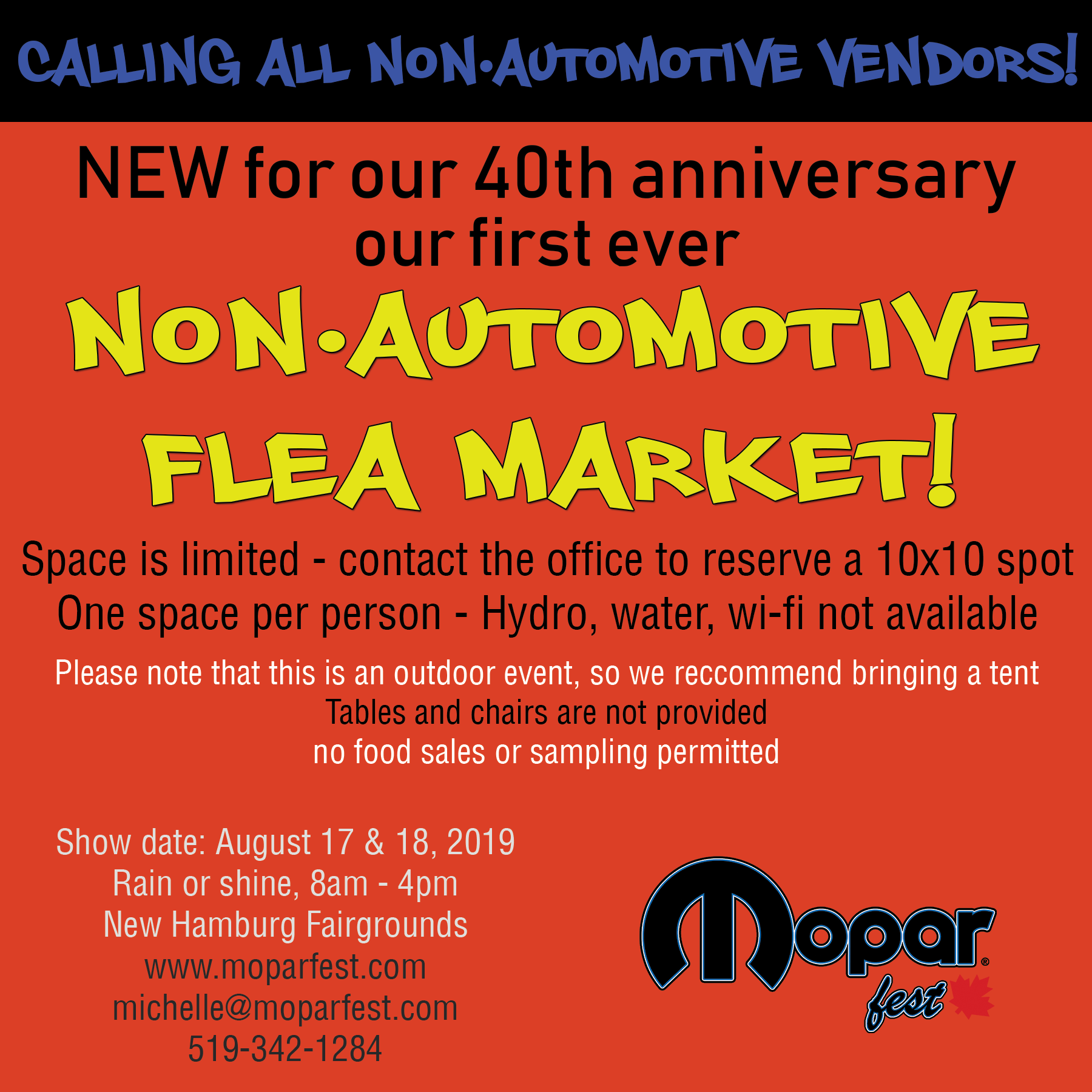 We are keeping this flea market separate from the vendor field.
We are also keeping the automotive and non-automotive vendors separate.
We are always a car show first, that's our main focus
We need some help…
We are in search of a select few years of Wellington Motors Plaques – (NOT Moparfest ones!) We are looking for dash plaques from the annual Saturday evening Wellington Motors cruise night that happens during the Moparfest weekend.
The years that we are looking for are: 1986, 1987, 1988, 1998, 2002
If you have any of these years of plaques that you are willing to part with, please send an email to: michelle@moparfest.com and let us know you are able to help with the search!
2018 show notes:
The Legendary drag racer,

Herb McCandless

will be back for 2018, doing a Q&A session in the arena on Saturday! Don't miss it!
Don't forget – we offer a full hot breakfast in the Legion (on site) from 7am until 10am for just $9.00 – park your car, grab some food and enjoy the show!
NEW – $1,000 spectator cash draws each day! Free to enter into!
Did you know – you can substitute a vehicle at the show! Just let us know at Registration and we can get your paperwork updated. Full list of FAQ's here
Check out the arena for special interest Mopars, and our 1968 Mopar display, celebrating the 50th anniversary of the Super Bee and Road Runner
Coffee & a cold drink will be available on-site, thanks to Tim Horton's!
Cruise to Wellington Motors in Guelph after Moparfest on Saturday for a smoke show & cruise night
Friday August 17 – downtown New Hamburg car show & sidewalk sale, starting around 4 pm. Open to all makes and models of vehicles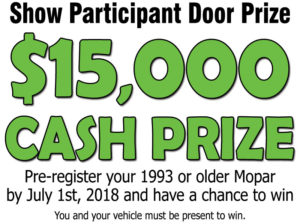 Why no prize car for 2019?
As a committee, we decided to try giving away a cash prize this year. Here are a few reasons why: the cost of buying an old Mopar, repairing and maintaining it, gas and all the time involved is getting higher and higher.
We also find that most people who win a Moparfest prize car end up selling it within a few years. So we thought we would try something new.
Plus – who couldn't use $15,000?
Same rules apply as before when we had the prize cars – you must pre-register your 1994 or older Mopar before July 1st, 2019. You and your registered vehicle must be present to win.
Thoughts on this? Send them to michelle@moparfest.com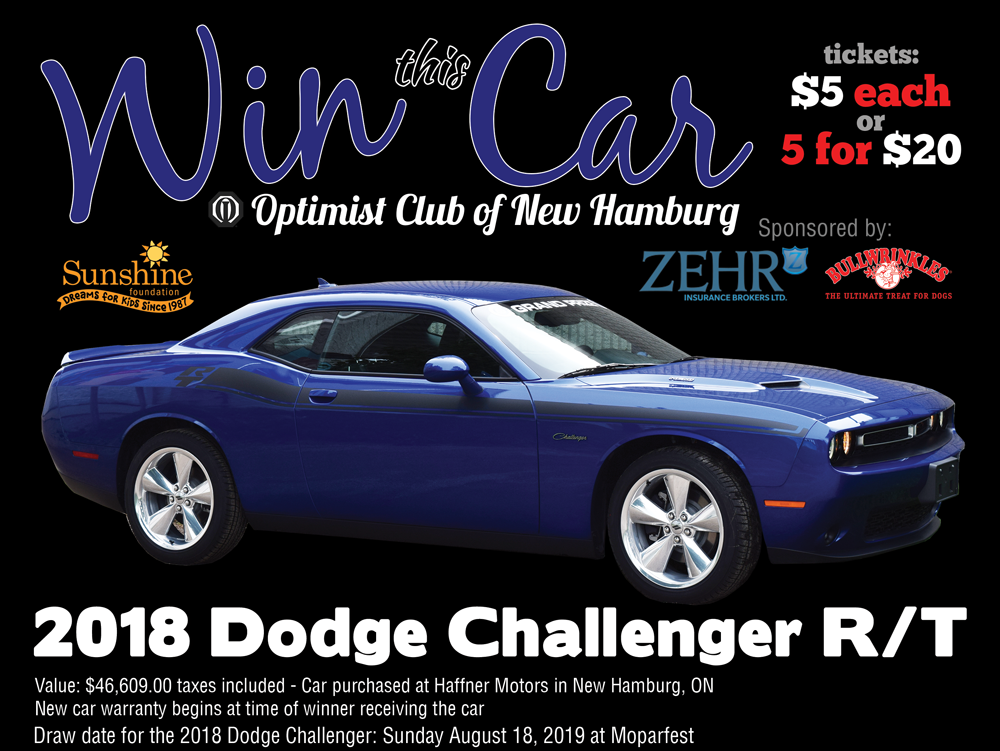 PLEASE NOTE:
Moparfest has a strict no pet policy. Only working service animals will be allowed onto the show grounds. Otherwise, you will be asked to leave if you are seen with an animal on the field. No refunds will be issued. We also have ZERO tolerance for animals left in, or tied to vehicles.
EVENT HIGHLIGHTS: