August 21 & 22, 2021 – our 41st event!
8am-4pm, rain or shine
showgrounds: 251 Jacob St, New Hamburg
New Hamburg Optimist Dodge Ram tickets – click here
The draw is
THIS Sunday, August 16th

. Please do NOT call Moparfest for tickets, click the link above for ordering details.
If you have ordered tickets and have not yet received them in the mail, they

WILL

be in the draw. They have all been processed and turned in!
We will post the winner on the website ASAP after the draw!
Good luck!
COVID-19 + Moparfest
This is one of those posts that I never wanted to be typing.
After much consideration, as a committee that runs Moparfest, we have decided that it is in the best interest for everyone involved in the event that we cancel our 2020 car show. We feel that we are making the most responsible decision to protect everyone's health and wellness at this time.
We all sincerely appreciate your support throughout the years and very much look forward to seeing you again at 2021's event. We are committed to making 2021 a fantastic event, with all the excitement that our fans have grown to expect from Moparfest. We can't wait to see you there!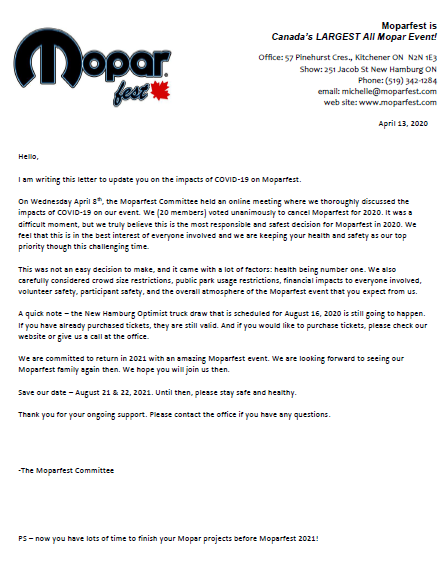 Image Text:
Hello,
I am writing this letter to update you on the impacts of COVID-19 on Moparfest.
On Wednesday April 8th, the Moparfest Committee held an online meeting where we thoroughly discussed the impacts of COVID-19 on our event. We (20 members) voted unanimously to cancel Moparfest for 2020. It was a difficult moment, but we truly believe this is the most responsible and safest decision for Moparfest in 2020. We feel that this is in the best interest of everyone involved and we are keeping your health and safety as our top priority though this challenging time.
This was not an easy decision to make, and it came with a lot of factors: health being number one. We also carefully considered crowd size restrictions, public park usage restrictions, financial impacts to everyone involved, volunteer safety, participant safety, and the overall atmosphere of the Moparfest event that you expect from us.
A quick note – the New Hamburg Optimist truck draw that is scheduled for August 16, 2020 is still going to happen. If you have already purchased tickets, they are still valid. And if you would like to purchase tickets, please check our website or give us a call at the office.
We are committed to return in 2021 with an amazing Moparfest event. We are looking forward to seeing our Moparfest family again then.
We hope you will join us then.
Save our date – August 21 & 22, 2021. Until then, please stay safe and healthy.
Thank you for your ongoing support. Please contact the office if you have any questions.
-The Moparfest Committee
PS – now you have lots of time to finish your Mopar projects before Moparfest 2021!
Please use the Shop tab above to buy NHO tickets and other items
Show notes:
No more bus trips to St. Jacobs – sorry for any inconvenience – see below for other exciting events
Because we chose to cancel the bus trips to St. Jacob's, we now offer a non-automotive vendor Marketplace beside the grandstands, as well as DIY projects in the arena!
We will be working with Nailed it Nite to have some great DIY projects upstairs in the arena again – check back for updates on the DIY projects and how to register!
We offer a full hot breakfast in the Legion (on site) from 7am until 10am for just $9.00 – park your car, grab some food and enjoy the show!
Check out the arena for special interest Mopars
Cruise to Wellington Motors in Guelph after Moparfest on Saturday for a smoke show & cruise night
Friday August 14 – downtown New Hamburg car show & sidewalk sale, starting around 4 pm. Open to all makes and models of vehicles
This year's New Hamburg Optimist giveaway vehicle
2019 Dodge Ram 4×4

EVENT HIGHLIGHTS:
PLEASE NOTE:
Moparfest has a strict no pet policy. Only working service animals will be allowed onto the show grounds. Otherwise, you will be asked to leave if you are seen with an animal on the field. No refunds will be issued. We also have ZERO tolerance for animals left in, or tied to vehicles.